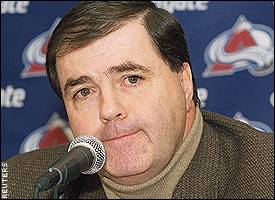 In part one I talked about Lacroix's trading over his last three seasons. I gave him a
C+
; almost all of his trades were good, except the big ones (which all backfired).
In part two, we're going to look at his last three drafts. DISCLAIMER: This will be a little different than looking at trades because there weren't hardly (I believe one) any trades in the 2005 non-season, but there was a draft. Also, even though Lacroix was the GM of the 2005-2006 Colorado Avalanche, Francois Giguere took over before the 2006 draft. Thus, we'll be evaluating Lacroix performance at the 2003, 2004, and 2005 NHL Entry drafts. An "X" denotes the player became a bust.
2003:
2 - X
4 - X
5 - X
5 - C Brad Richardson (45 points in 167 career NHL games)
7 - X
7 - X
8 - X
9 - RW David Jones (19 points in 67 career NHL games)
Sweet Maria. One of the deepest drafts of all time, which had a first round including the names Staal, Getzlaf, Richards, Carter, Vanek, and Fleury was also a year Colorado didn't have a 1st round pick. The 2nd round also had loads of talent, which included Loui Eriksson, Patrice Bergeron, and Shea Weber. However, Colorado busted and became one of the only teams (ironically, along with Detroit) not to pick up a star player in this draft.
The only players to become semi-NHLers are Brad Richardson and David Jones. Richardson has since left the organization (to the dismay of many fans, who felt he deserved more ice time), but Jones has remained and is a key part of the future. Jones possesses the size and speed to be a good 3rd line RW, but has potential to be a 2nd line scorer.
All in all, this draft was a massive failure. It was loaded with talent, and the only thing Lacroix nabbed was a (for all intensive purposes) 3rd line RW.

2004:
1 - LW Wojtek Wolski (146 points in 240 career NHL games)
2 - X
3 - LW Denis Parshin (Russia)
5 - X
6 - D Derek Peltier (0 pts in 11 career NHL games)
7 - X
8 - RW Brandon Yip (NCAA)
8 - X
9 - X
Lacroix managed to redeem himself somewhat with a strong 2004 draft in a (for the most part) weak crop. Drafting Wolski with the Avalanche's 1st round pick was a good move. Over half of the 1st round busted, but the Avs nabbed themselves a solid player at #21 (although it would have been nice if Travis Zajac, drafted 20th, would have fallen one more spot).
Dennis Parshin, who is currently in a court battle so he can leave Russia for North America, has top 6 potential and may turn out to be a good sleeper pick by Lacroix. His stock fell because of his small size (5'9").
Derek Peltier got his feet wet last year for the Avalanche, and has an outside chance of becoming a bottom pairing defenseman in the NHL (hey, it's better than being a bust). Brandon Yip was a nice sleeper pick, and you can read my feelings about his potential in the blog I posted yesterday.
We can call 2004 a pretty good draft. Not the best, but not the worst either.
2005:
2 - LW Ryan Stoa (NCAA)
2 - C Paul Stastny (185 points in 195 NHL games)
2 - LW Tom Fritche (AHL)
2 - X
3 - C T.J. Hensick (32 points in 92 career NHL games)
4 - D Ray Macias (1 point in 6 career NHL games)
6 - X
6 - LW Justin Mercier (NCAA)
7 - D Kyle Cumiskey (7 points in 53 career NHL games)
As you can pretty much tell, this was a great draft for the Avalanche. Paul Stastny has established himself as an NHL star, while Hensick and Cumiskey may soon become regulars.
Stoa and Mercier, both who have played in the NCAA the last four years, both look to be bright parts of the Avalanche's future on the left side. Stoa should fill a top 6 role (as early as next season), while Mercier should fill a 3rd line checking role.
Macias, much like Peltier, has an outside chance of becoming a bottom pairing NHL defenseman. Fritche also still has a chance to make something of himself, but needs to stay consistently healthy if he wants to do so.
Overall, the 2005 draft was a major success. Drafting a goalie (like Quick) would have made it better, but beggars can't be choosers.
---
Lacroix's all draft team:
Wolski - Stastny - Jones
Stoa - Hensick - Parshin
Mercier - Richardson - Yip
Fritche
Cumiskey - Peltier
Macias
---
I'll give Lacroix's drafting a
B
. He really flubbed up that 2003 draft by trading the 1st round pick away, but made up for it by following with two solid drafts.
There will be a part 3, which will touch on free agent signings and answer the initial question: does Lacroix still have what it takes?