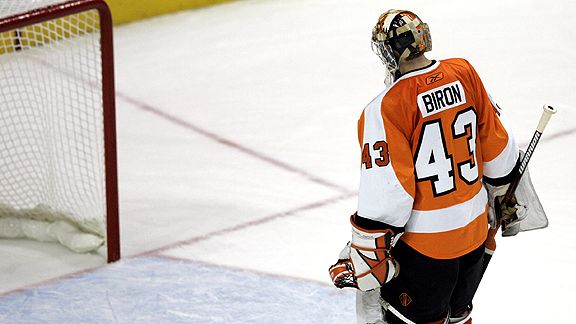 Seriously? And I thought the Craig Anderson signing was a deal!
I can't blame the Avs because I'm sure his demands were much higher on July 1st, but it hurts to know that a Biron (1.4)/Budaj (1.2) tandem would have been cheaper and probably more efficient. Or heck, how about a Biron (1.4)/Anderson (1.8) tandem? I don't think anyone would associate Colorado and bad goaltending anymore if that were the case.
And what about the Flyers? They let Biron walk because they thought they couldn't afford him, but it turns out he'll actually make LESS money than the 1.5 million they'll be paying head case Ray Emery this season.
As far as the Isles are concerned, this screams the end for Dipietro. There were some rumors on various message boards that he was seen having trouble walking recently, a sign that he may have had yet another knee surgery. How many players have multiple surgeries and continue their careers? Not many.