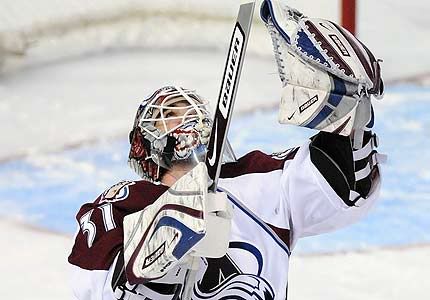 The title says it all
...except my dismay. Budaj is a great back-up and spot starter. But for a team strapped for cash (cap space) like Colorado, paying back-up goaltenders 1.25 million is not logical. Also, why did he get a raise (800K last season) after posting a 2.86 GAA and 0.899 SV% (both numbers the worst of his career)?
By my calculations, Colorado has 46.058 million committed to 15 players next year:
Stastny (6.60)
Smyth (6.250)
Hejduk (3.90)
Wolski (2.80)
Tucker (2.25)
Svatos (2.050)
McLeod (1.033)
Hensick (0.850)
Stewart (0.850)

Hannan (4.50)
Liles (4.20)
Clark (3.50)
Salei (3.025)
Foote (3.00)

Budaj (1.25)
With a
salary cap of 56.8 million next season
, that only leaves 10.8 million to spend on 5 players (3 forwards, 1 defenseman, 1 goalie). And that's assuming there are no healthy scratches (which there will be). In addition, you'll notice that list doesn't include David Jones (
who was offered a qualifying offer
), Matt Duchene (who's cap hit with bonuses will surely be over 2.5 million), and Joe Sakic (who I doubt will play for under 4 million dollars...assuming he doesn't retire).
This, folks, is a sign of bad management. I like the idea of keeping Budaj as a back-up, but unless Tucker is bought out (only one day left) or some other salary is moved, it's going to be quite hard to sign quality free agents. Such as a
starting
goalie. After this signing, it looks as though Colorado might go the Ty Conklin route: having another bargain goaltender and Budaj battle it out for the starting job.
Again.